HSP-4 High Speed Coffee Filling and Sealing Machine
Brief Instruction:
HSP Model K-shot kcup coffee filling machine is use for Upshot capsule is the latest Version Machine, the Upshot filling and sealing machine is design specially for Upshot coffee filling machine. Its material use is better than previous machines; Components use top brand.
HSP model upshot coffee sealing machine reflect more artificial
intelligence. Touch screen operation relief worker's burden, which embody simple and
convenient. Servo driver improve the filling accuracy. Filling nitrogen many times
ensure the quality of coffee capsule package. Photoelectric detection will detect what
failure happened. Besides, if production line has no cup and lid, the machine will stop
running. It also has security device. when you open the safety door, machine will stop
automatically.
Main Working Process:
☆ Special Feeding unit for capsules
☆Automatic drop empty upshot to machine
☆Automatic detect Upshot on the machine by sensor.
☆ Servo motor to fill coffee around 5-20g ( adjustable),
* Automatic clean the edge of k-shot ( vacuum clean)
☆Automatic cutting from Roll film and sealing it.
☆ Automatic exit unit.
Technical Parameter:
| | | |
| --- | --- | --- |
| NO. | Model | HSP –serial |
| 1 | capacity | 1800-9600 Cups/hour |
| 2 | Working station | 1-8lanes |
| 3 | Filling range | 0-20grams |
| 4 | Filling accuracy | ± 0.1-0.2grams |
| 5 | Voltage | Three Phase 220V- 240V 60HZ |
| 6 | Air pressure / gas consumption | ≥0.8Mpa/0.1m² |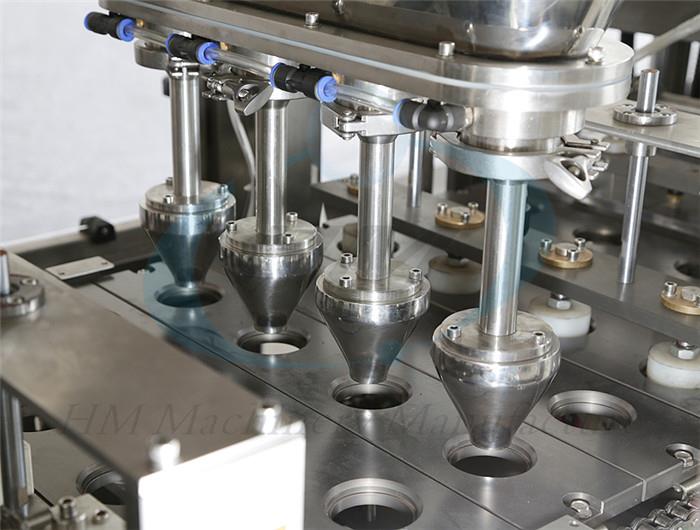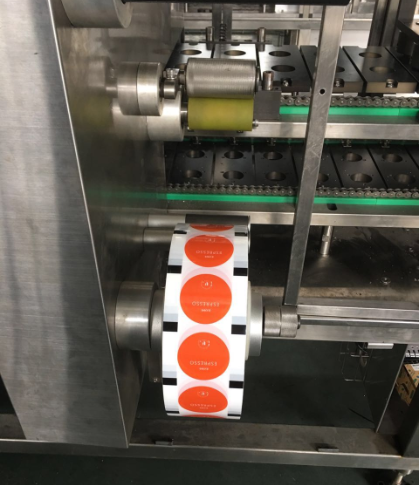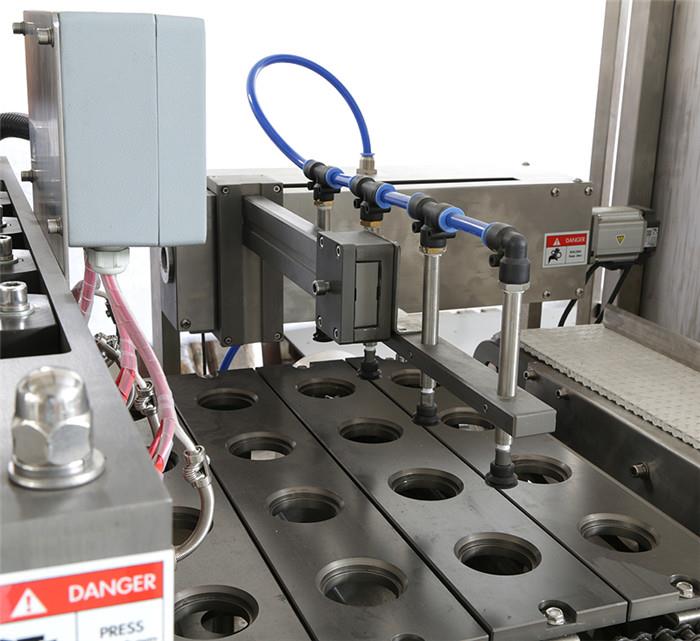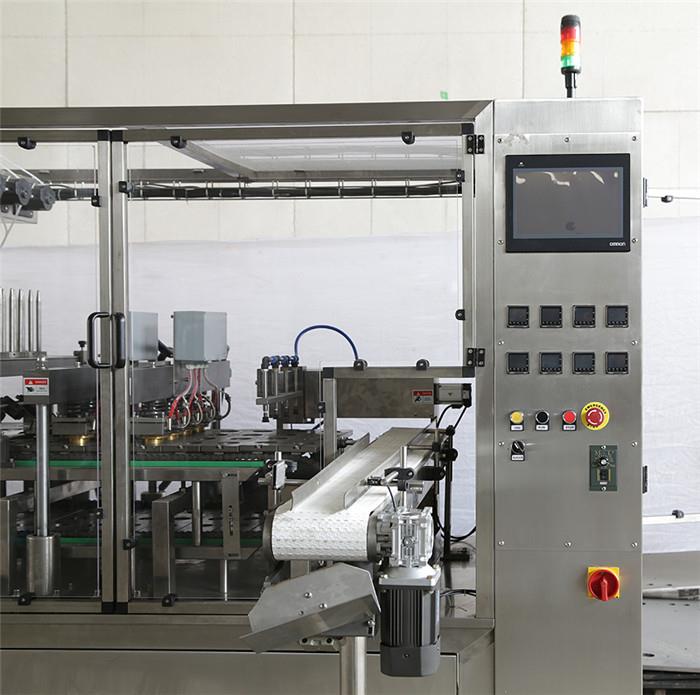 k cup sealing machine advantages
The k cup sealer's market has found its own field and industry in the industry through its own groping. It has also begun to contribute more development efforts and space in the market. Under the influence of development, it has promoted the entire industry. The economic development of the sealing machine market has helped increase the efficiency and production opportunities through cooperation with companies, and has become a key supporter and driver of market development. After numerous tests and improvements, the filling and sealing machine has won the recognition of some users with its solid ability, good quality and stable performance. The development market has also been broadened, but these can only represent irrigation. The overall strength of the capping machine tends to be in line with the current user's packaging requirements, and does not mean that in the long-term future, the filling and sealing machine can still maintain the current state of development. In the face of the rapid development of the packaging industry, in order to stabilize the market position of filling and sealing machines and achieve long-term development, filling and sealing machine manufacturers must always maintain a positive learning spirit and pay attention to the new development of packaging technology in the world. Listen to the users' valuable opinions, analyze market trends, and formulate corresponding reform plans based on these data. After a series of improvements, the filling and sealing machine can be more in line with the user's packaging requirements, thereby gaining more The attention of users further broadens the space for development.
Looking forward to your inquiry for this k cup sealer coffee pod filling machine .