HSP-4 High Speed Coffee Filling and Sealing Machine
Brief Instruction:
HSP Model K-shot kcup coffee filling machine is use for Upshot capsule is the latest Version Machine, the Upshot filling and sealing machine is design specially for Upshot coffee filling machine. Its material use is better than previous machines; Components use top brand.
HSP model upshot coffee sealing machine reflect more artificial
intelligence. Touch screen operation relief worker's burden, which embody simple and
convenient. Servo driver improve the filling accuracy. Filling nitrogen many times
ensure the quality of coffee capsule package. Photoelectric detection will detect what
failure happened. Besides, if production line has no cup and lid, the machine will stop
running. It also has security device. when you open the safety door, machine will stop
automatically.
Main Working Process:
☆ Special Feeding unit for capsules
☆Automatic drop empty upshot to machine
☆Automatic detect Upshot on the machine by sensor.
☆ Servo motor to fill coffee around 5-20g ( adjustable),
* Automatic clean the edge of k-shot ( vacuum clean)
☆Automatic cutting from Roll film and sealing it.
☆ Automatic exit unit.
Technical Parameter:
| | | |
| --- | --- | --- |
| NO. | Model | HSP –serial |
| 1 | capacity | 1800-9600 Cups/hour |
| 2 | Working station | 1-8lanes |
| 3 | Filling range | 0-20grams |
| 4 | Filling accuracy | ± 0.1-0.2grams |
| 5 | Voltage | Three Phase 220V- 240V 60HZ |
| 6 | Air pressure / gas consumption | ≥0.8Mpa/0.1m² |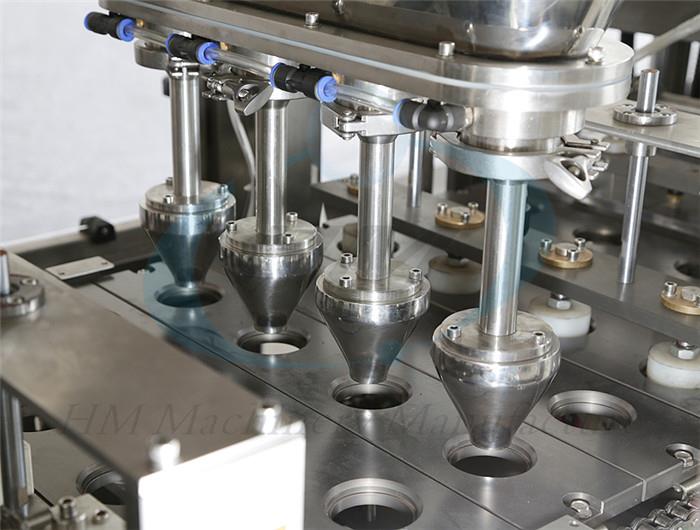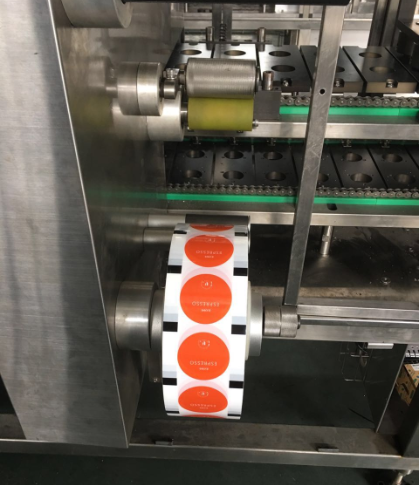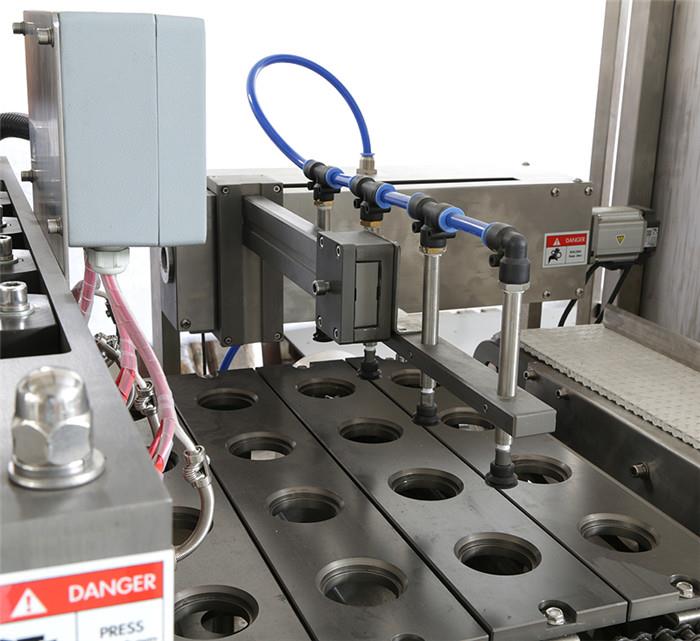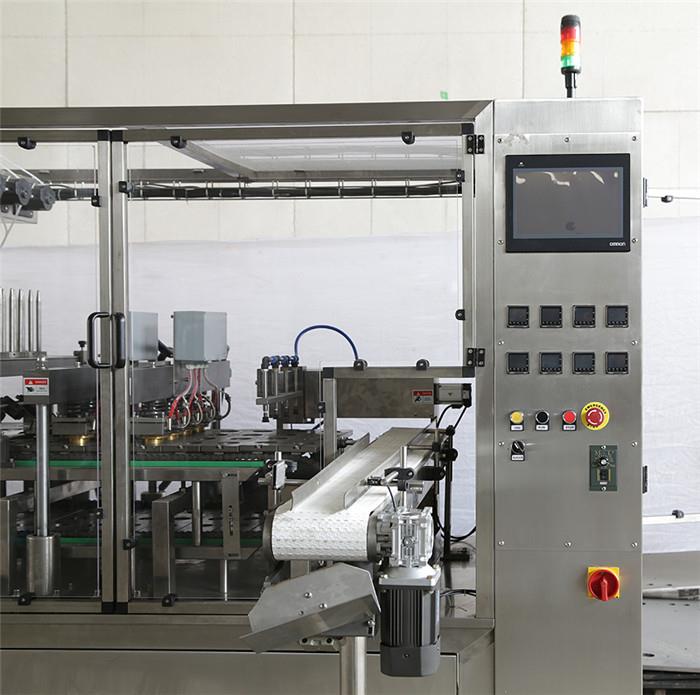 coffee sealing machine industry go green development
In 2017, the packaging industry will continue to upgrade to the "two trillion" club. Behind the rapid growth of China's packaging industry is the rapid economic and social development and the enrichment of the people's living standards. Among them, the food packaging machine as part of the packaging industry, made an important contribution to the total output value. Today, 2018 has come, this year is hailed as the reform and opening up, the second revolution in the packaging industry the first year, will have some impact on the food packaging machines and other industries. So, in the current context, China's food packaging machine industry will be how to proceed? Increasing environmental protection industry reshuffle kicked off.
In recent years, China's environmental protection efforts continue to increase, for the field of food packaging machines mean the reform within the industry. Industry experts said that by 2018 national environmental protection efforts continue to increase, the industry reshuffle will kick off. This means that small-scale packaging enterprises with low production technology and weak packaging quality will be eliminated. Leading packaging enterprises with sound and efficient supply chains have the advantages to market Blue Ocean.
Faced with the new market competition, China's fully automated food packaging machine business only grasp the trend of development, green development, can win the initiative. At the same time, the packaging industry reshuffle also brings some opportunities and challenges for the development of food packaging machine business.
Looking forward to your inquiry for this coffee sealing machine