HSP-4 High Speed Coffee Filling and Sealing Machine
Brief Instruction:
HSP Model K-shot kcup coffee filling machine is use for Upshot capsule is the latest Version Machine, the Upshot filling and sealing machine is design specially for Upshot coffee filling machine. Its material use is better than previous machines; Components use top brand.
HSP model upshot coffee sealing machine reflect more artificial
intelligence. Touch screen operation relief worker's burden, which embody simple and
convenient. Servo driver improve the filling accuracy. Filling nitrogen many times
ensure the quality of coffee capsule package. Photoelectric detection will detect what
failure happened. Besides, if production line has no cup and lid, the machine will stop
running. It also has security device. when you open the safety door, machine will stop
automatically.
Main Working Process:
☆ Special Feeding unit for capsules
☆Automatic drop empty upshot to machine
☆Automatic detect Upshot on the machine by sensor.
☆ Servo motor to fill coffee around 5-20g ( adjustable),
* Automatic clean the edge of k-shot ( vacuum clean)
☆Automatic cutting from Roll film and sealing it.
☆ Automatic exit unit.
Technical Parameter:
| | | |
| --- | --- | --- |
| NO. | Model | HSP –serial |
| 1 | capacity | 1800-9600 Cups/hour |
| 2 | Working station | 1-8lanes |
| 3 | Filling range | 0-20grams |
| 4 | Filling accuracy | ± 0.1-0.2grams |
| 5 | Voltage | Three Phase 220V- 240V 60HZ |
| 6 | Air pressure / gas consumption | ≥0.8Mpa/0.1m² |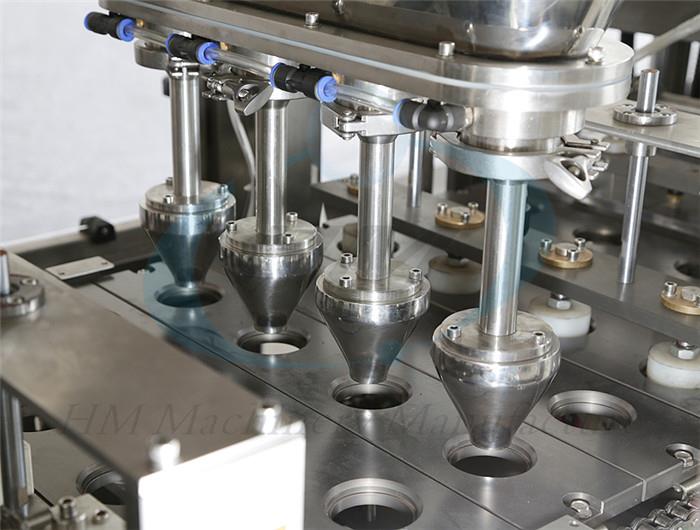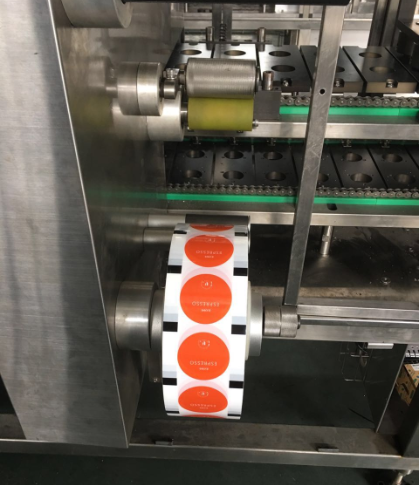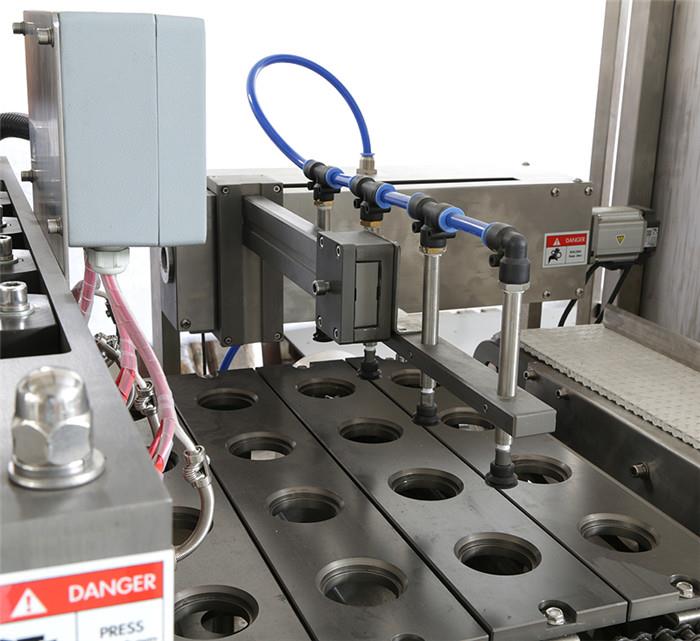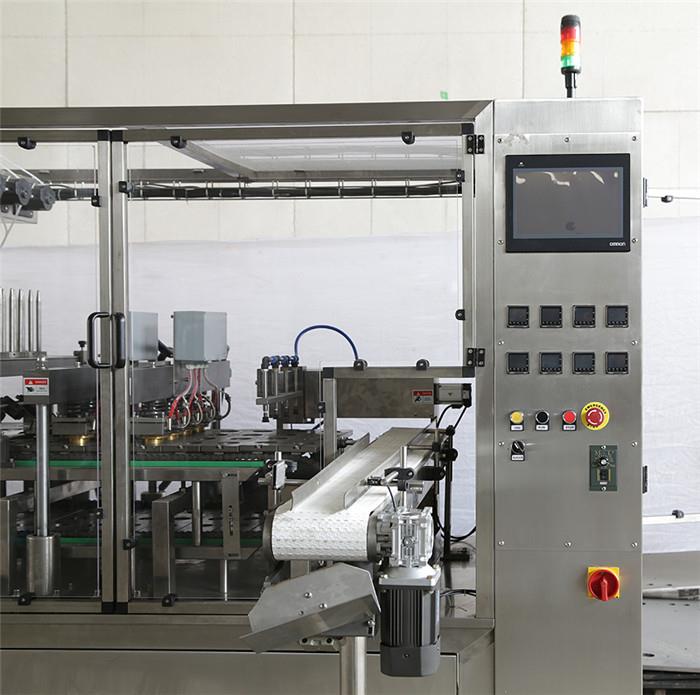 Contact US
Contact Person:Nicole
Tel:008613818903526
E-mail:hm001@hmmanufactory.com
Contact Person:Peter
Tel:+8613761145512
E-mail:hm008@hmanufactory.com
English Web:www.coffeemachinessupplier.com
Spanish Web:www.nespressomachinery.com
French Web:www.dolcegustomachine.com
If you're looking for the buy discount automatic upshot coffee filling and sealing machine, welcome to place an order with our professional manufacturers and suppliers in China. Our products on sale are competitive in price, quality and reliability.
coffee pod sealer machine of use
Coffee sealer is made of stainless steel, the body is heavy, the use of more secure, not easy to corrosion, production of a food and beverage sealing packaging machinery, advanced product design, portable, easy to operate, save time, effort, and province The advantages of electricity are suitable for small food factories, beverage factories and many food and beverage outlets. Mainly used for milk tea cup, all kinds of beverage cups, such as pearl milk tea cup sealing machine, melon tea sealing machine, soy milk cup sealing machine and so on all kinds of sealed cup can be used.
To get the film, you need to confirm the winding direction of the film, find the counterclockwise direction, and place it on the film rod to fix it. (Please turn off the power when you are wearing the film.) Note If the front and rear fixing plates of the film are tightly bound with the film, if it cannot be tightly combined, you need to use the utility knife to insert the inner side of the film to cut the angle. After the film is put on, use a tape to firmly attach the film to the receiving paper tube.
Looking forward to your inquiry for this coffee pod sealer machine coffee pod manufacturing machine.