Nespresso Capsule Coffee Production Line
Nespresso packing machine is full production line from empty Nespresso filling and sealing then use Nespresso carton packing machine to pack in carton or let Nespresso packing in bag.
Main Working Process:
☆ Capsule storage tank.
☆ Lifting conveyor to feeding capusle
☆ Automatic capsule sorting system to conveyor to the filling machine.
☆Automatic drop capsule into the machine mould.
☆ Servo motor to fill coffee while vibrating, (weight can be adjust)
☆Auto Roll film cutting and sealing.
☆ Auto Seal twice
☆Auto remove wrong/ unfit/ unsealed cup into the trash tray.
☆ Automatic mechanical grasp the finished product to conveyor ( connect to the conveyor)
☆ Auto conveyor the finished capsule to Vertical Bag Packing machine, counting and packing.
☆ Auto drop onto conveyor belt after bag sealing .
☆ Auto transport to the carton packing machine or in bag
Technical Parameter:
| | | |
| --- | --- | --- |
| NO. | Model | HSP |
| 1 | Speed | 3000-12000Cups/hour |
| 2 | Working station | 2/4/6 lanes |
| 3 | Filling range | 0-20grams adjustable |
| 4 | Filling accuracy | ±1.5% |
| 5 | Voltage | Three Phase 240V 60HZ/7KW, can be custom-made according to customer requirement. |
| 6 | Air pressure / gas consumption | ≥0.6Mpa/0.1m² |
| 7 | Working Temperature | 5-35°C |
| 8 | Relative humidity | ≤85% |
| 9 | Machine size | L 7500mm* W1000mm* H2600mm |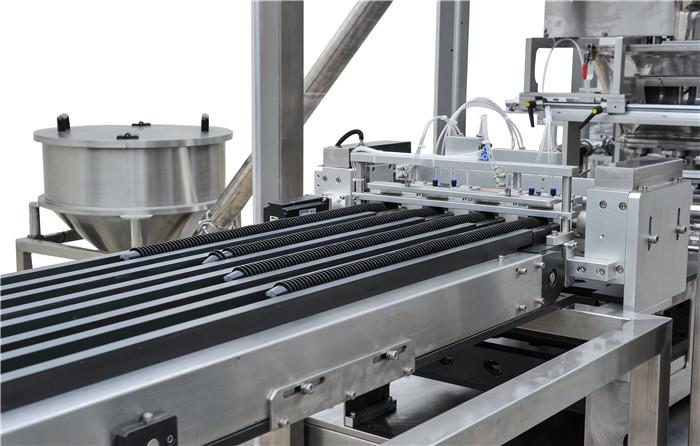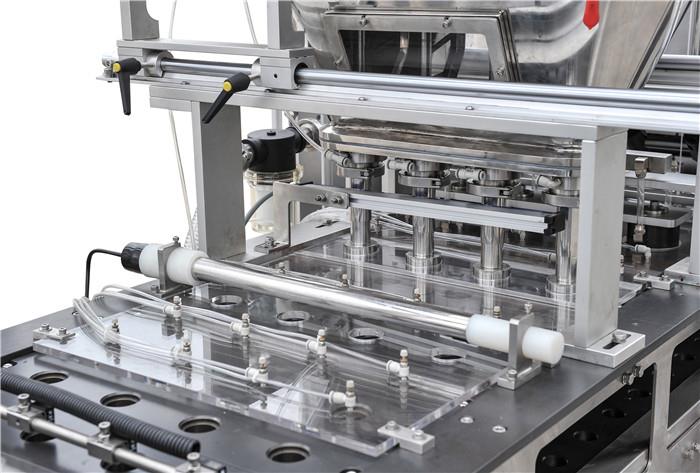 Contact US
Contact Person:Nicole
Tel:008613818903526
E-mail:hm001@hmmanufactory.com
Contact Person:Peter
Tel:+8613761145512
E-mail:hm008@hmanufactory.com
English Web:www.coffeemachinessupplier.com
Spanish Web:www.nespressomachinery.com
French Web:www.dolcegustomachine.com
The workflow introduction of coffee pod filling machine
Nowadays, cups of coffee are becoming more and more popular. Most businesses now use plastic caps to seal them. However, plastic caps are poorly sealed, and they are prone to leakage when they are sent for food delivery, causing losses. In view of this situation, we designed a table-top automatic sealing machine. The seal of this machine is good, and the sealing film can be printed with exquisite designs, which is inexpensive and beautiful. The working process of the desktop automatic sealing machine: put the cup → the next mold into → seal (press down the mold, rise) → the next mold out → take the film → out of the cup, consider the volume of the machine should not be too large, it does not use the concentration Drive, but each movement is driven by a miniature geared motor, so the structure is simple and compact. The movement of the lower mold adopts a crank-slider mechanism. This mechanism has the advantage of high positioning accuracy compared with the rack-and-pinion transmission. The upper and lower molds can be aligned to avoid damage to the cutter. Another advantage is that the motor is fixed and the electrical wires of the motor are not easily broken. The upper die movement uses a cam mechanism. This mechanism has the advantage of long sealing time compared to the crank slider mechanism.
Looking forward to your inquiry for this coffee pod filling machine coffee sealing machine.